Cash4Gold was recently shown during the last Super Bowl infomercial. Who could forget, all that bling and the odd mix...MC Hammer and Ed McMahon both hawking Cash4Gold's service which converts precious metals to cash. The Cash4Gold infomercial spot opens with the Cash4Gold logo and a "Heeere's money!" from McMahon. He places a pair of unwanted gold cufflinks into the Cash4Gold bag. Hammer and McMahon each show increasingly ludicrous items that can be traded for cash. Hammer sells his gold medallion and of all things... a gold sledge hammer and parachute pants. McMahon trades in his gold hip replacement, gold microphone, gold golf clubs and even gold toilet. Sounds like rough times for poor Ed!
Now that both stocks and the dollar are down, people are looking for the best places to get cash for gold jewelry. You can safely sell your old jewelry for three times more, now than just five years ago. Pawn brokers are reporting that people from all walks of life are raiding their jewelry boxes and bringing in old scrap jewelry. The selling of gold is up 50% from last year.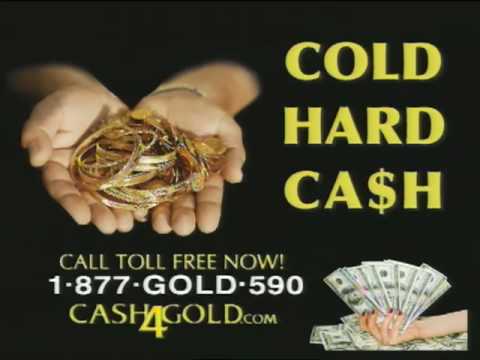 So is Cash4Gold the best place to sell your gold jewelry? Several online refiners and ads seen on TV have sprouted up making the decision much more difficult. During a recent Fox News investigation they put some of the better known "sell cash for gold" companies to the test. They purchased three identical gold necklaces from a department store and had them appraised. Then they sent one necklace off to "Cash4Gold USA", "Cash 4 Gold", and "Broken Gold". The fastest and highest paying results were from "Cash for Gold USA" with a payment of $15.50. Cash4Gold paid $5.52 while "Broken Gold" paid $5.60. Don't forget that Cash4Gold and CashforGoldUSA is are different companies with completely different returns.
If Cash4Gold offers the least return and CashforGoldUSA.com is the best place to sell your gold and precious medal, when is the best time to sell it? At Kitco Bullion Dealers in Montreal, analyst Jon Nadler expects that by summer the dollar will begin to recover and gold will return to stabilized level of $650 - $750 an ounce. So there is a window of opportunity for people to get the best cash when they sell unwanted gold coins and jewelry.