Does the tornado fuel saver work?  Does it help you save gas?? It's suppose to enhance fuel economy by mixing incoming in the air intake duct of your vehicle. The combustion chamber will then completely burn your fuel by providing better fuel atomization. It's basically one stainless steel piece… a mini wind turbine that installs in less than 10 minutes.
It's available in an assortment of sizes to fit most vehicles. You install it on your vehicles intake tract immediately upstream of the MAF sensor. I found a news station that did a video review on this product. Take a look at their results. The Tornado Fuel Saver claims to increase your gas mileage by 28% . or 1 – 2 miles a gallon.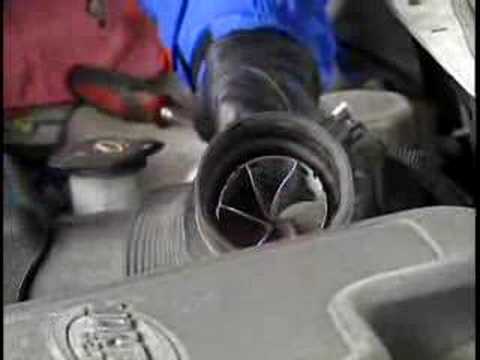 I find it kind of interesting that on the Tornado Fuel Saver site it has all of these professionals who claim it works and that there are years of research and development behind it.  Yet I looked at this video review and at popular mechanics test and this product does not work.
In the video review, they tested an SUV for one week. They drove it in and out of the city and the results came up even. The end result in was 16 miles per gallon without the fuel saver and 16 miles with the fuel saver.
I read a review done by Popular Mechanics and they also came up with the conclusion that there is no positive effect from using Tornado Fuel Saver.
Why Tornado Fuel Saver Doesn't Work
The device creates a restriction in the intake stream, reducing the total power gain of the vehicle. Any turbulence or "vortex" caused by the devices is destroyed the second it reaches the throttle body plate. In some cases these devices can reduce power as much as 10%, while INCREASING fuel consumption.
Gus says....
If everyone had forced induction, this product would work great. Your engine only pulls in the air it needs unless you have a turbo charger or a super charger forcing more air in. If you put this in a normal car, it just puts another barrier in your intake. If you are using a turbo or super charger, and your air is being forced in, then it actually helps to lower fuel consumption. BUT, if you are using a turbo/super charger, your fuel consumption is crap anyways, plus it doesn't lower it enough to make a difference.
The plus side is if you do want to try it out they give you a 30 day money back guarantee and a [tags]tornado fuel saver[/tags]lifetime warranty of the part. If you buy the product at an auto parts store they will honor you return.
Here's more practical hints on saving gas. Check out this helpful blog post on how to Max Your MPG .
Does the tornado fuel saver work for you? Please let me know your results by commenting below. Is it possible that some makes and models of vehicles have more success than others? I want to be fair and impartial here although I've seen many reviews that doubt this fuel saving device.