I just came across some how-to videos on curling your hair with hair curlers and rollers. I know that not all of you ladies are so fond of those hot curlers and flat irons. This is probably one of the most requested topics! Have a look at these four videos plus (can you believe) a whole YouTube channel devoted to how-to hair curler techniques!
Hair Curlers - Basics
Here are some videos with lots of great tips on using hair curlers. These are great for anyone with naturally curly type hair.

The video above is on how to choose different hair rollers for different hair lengths.
.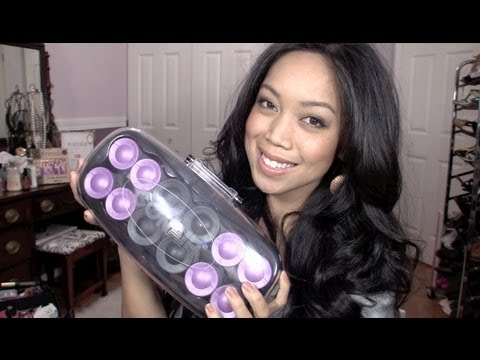 Here's a fast paced look at applying a hair roller set. I find it interesting that she rolls her hair on the side of her head upwards instead of downwards or sideways. I wish I could see the finished results!

Mrs. Raines points out these really great tips.
You'll spend less if you buy your rollers in a set.
Get the right type of clips to prevent wavy, granny hair.
Don't use too much product in your hair because it weighs your hair down.
She also suggests that you use setting lotion on your hair before you put the rollers in. You can also have wet hair before you start rolling. Just be aware that she is using the smooth rollers and not the velcro ones. I know that velcro rollers get stuck in wet hair. So for those ones you put spray on your hair first then roll.
Just like any new technique, keep practicing and you'll eventually find your own personal style. She also suggests taking a picture and perfecting your technique.
How to Put Foam Curlers in Hair
In these two videos Melissa does a great job of covering all the basics. I like that she mentions what type of product she's using, rather than brand names since you can't always buy that specific brand name products at all stores.
How To Put Foam Curlers In Hair
How to Put Velcro Rollers in Hair
How To Use Velcro Hair Rollers
This lady is amazing.  Dianne Hanks has taken the art of using hair curlers to a whole new level. Her videos are fun and actually quite interesting to watch. Diane takes her time, chats, has a good time explaining the fine details. She shares some insights as she experiments with her curlers at the link above.
Hair curler and roller techniques from the pros...there you have it ladies! I never really got into the whole roller thing. I honestly could never figure it out so I gave it up. I love my large barrel curling iron and have stuck with that ever since. Here's a look at an infomercial hair accessory called Easy Combs.