How to curl hair with a flat iron or straightener is really easy once you get the hang of it. The difference between curling with a flat iron and a curling iron is that the curls last longer. Your curls will have a slightly different shape than the traditional curl with a round barrel iron. The first video shows you how to do just that. The second video is a really interesting technique if your want to make your hair soft and wavy. This lady uses her curling iron and her 99 cent granny rollers to create this effect!
How to Curl Hair with a Flat Iron
The best flat irons for your hair are the ceramic ones because of the fact that they seal your hair cuticle much better than a regular flat iron. Save yourself shipping fees and you can probably find on in your area at most of the larger hair salons. I personally love my flat iron. I'm sure you already know this...but I'm really surprised they don't talk more about thermal protection spray (not regular hair spray) so you don't damage your hair with heat. Take each piece of hair and spray it really good and comb it through. Then flat iron or curl you're that piece of hair. Thermal protection spray protects your hair from heat damage for hot rollers, flat irons, curling irons and blow dryers. It also leaves your hair all soft and shiny and makes it much easier to curl or straighten your hair.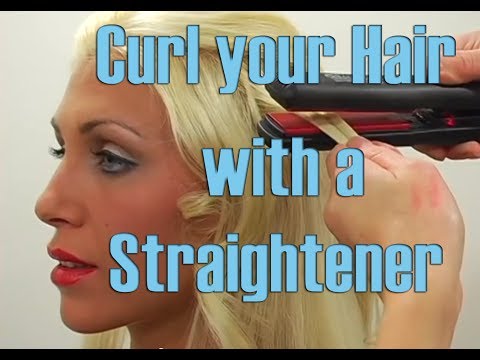 The best thermal protection spray I've ever found is "Matrix Vavoom Gold Heat Iron-In Volume" at a hair salon in my local mall. I've tried many different thermal hair sprays and this by far the best because it doesn't leave your hair feeling stiff or dry looking. The bottle lasts me almost a full month! The second best I've used is the "Chi Iron Guard Thermal Protection Spray".  The "Chi" line the products have similar looking bottles. Make sure it's actually the Iron Guard thermal protection spray. One bottle of this product barely lasts me two weeks and doesn't make your hair look as sleek as the Matrix product.
How to Curl Hair with a Curling Iron and Granny Rollers
If you want to create a natural kind of a wavy type look, here's a really neat technique.  She mentions that you need three curling irons...really? That's a little much. That's why I like just having a flat iron. You can then create two simple looks - curly or straight. I'm no hair expert or anything but why do we need to complicate things. I think one  ceramic flat iron and one curling iron is sufficient for creating a lot of different looks.  Anyway, I really love this [tags]how-to-curl-hair[/tags] video because she does things a little different than every other stylist out there.
She's Using the Following
Three-quarter inch barrel curling iron - This one is for formal curls. This is for tighter, smaller ribbon curls. So this is something for prom, something formal, maybe if you want to do really curly pigtails or really curly all-over hair.
One and one quarter inch barrel curling iron - This one gives you big curls.
Plastic Rollers - You can get them at the 99 cent store or Target. They come in different sizes and she has both a large and medium size.
Steps Used
1.  It doesn't really matter how you curl it. She's just trying to achieve different curls to create different textures, which is what gives your hair a unique look.
2.  Take each piece of hair and spray on your protective spray, and comb it through the hair. It bugs me she doesn't show it here but it's really important so you won't damage your hair.
3.  She takes her piece of hair and curls it with the one sized curling iron. Then takes that same piece of hair and wraps it around the plastic roller instead of from the end of the hair going up. Be careful with the ends to make sure they're held in the plastic curler or it won't look right.
4.  She alternates curls between her two different sized curling irons. I noticed she also curls from different directions, one turned to the left and the other turned to the right.
5.  She also alternates between using a small curling iron with a big plastic roller and a regular plastic roller.
6.  Keep it in for about ten to fifteen minutes. Maybe when you're done putting your make-up on and your hair's nice and cool you can take them out very carefully. Make sure it's not hot when you touch it or it's going to straighten out your curl. Then just run your fingers through and that's it. It's a really simple and easy way to have nice, bouncy, wavy hair.
How to curl hair with this technique is way easier than the other videos I posted yesterday, although I wanted to show you what the Velcro curlers can actually do. I like the idea that if you have hair that's difficult to curl the plastic rollers will really help to hold the curl in place. By the way, here's another how to curl hair technique with hair rollers.