The Bra Baby is suppose to help us ladies with one big annoyance.  Washing our bras by hand. Yuck! Wayyy too much work. Well you could always take a chance and toss them in the washer and then get the hooks or straps caught on other clothes. Worse yet... the agitator. Oooh Nooo! It's really awful ruining those expensive bras. Geeze I'm starting to sound like an infomercial.  Well there's suppose to be what they call a "new revolutionary way" to wash your bras. Oooh isn't that exciting. Here's what ladies are saying about the Bra Baby.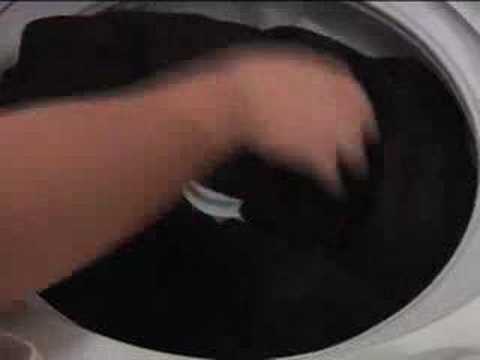 What is a Bra Baby?
It's a plastic protective cage to wash and dry your bra. It has both an inner and outer shell with large holes. You're suppose to put the bra in between the two shells before tossing it into the washer or dryer. The outer shell is suppose to protect your bra from the agitation of the laundry and snagging that may occur against other clothes. Basically it helps to keep your bra looking like new by preventing wrinkling and folding. It does this by holding your bra in position through the wash cycle.  The product comes with two Bra Babys.  It claims you can take out the center piece and fit a  "D" sized bra in it.
Advantages
[tags]Bra Baby[/tags]Does work on a light load.
Quite affordable - two for around $17.
Don't have to order it online. They sell it at Bed, Bath and Beyond.
Many Negative Comments from Several Ladies

Made of cheap material.
Over time the clasps that hold the shells together comes undone or breaks.
Doesn't fit bras with a "C" cup or larger.
Bra moves around inside causing bra padding to get crushed and bra to become folded.
Very noisy in the washer and dryer.
When put in the dryer there was a burning smell - see video

An Alternative Product - The Bra Ball

I'm not sure which product came first but there is a similar product called the Bra Ball. The Bra Ball should NOT be confused with the Ball Bra... which is something entirely different!
When I hear of a competition like this between two products, I'm kind of skeptical about comments I read.  Although, I'm pretty confident that this is legitimately a good product.  Anyway, the Bra Ball is much better quality and is getting some good reviews. Overall women really like this product. Although there are some disadvantages. Below is a picture of the Bra Ball.
Pros
Made of heavy duty plastic and has a sturdy lock.
Bra stays in place while washing.
Bras come out in perfect condition.
Clasp stays closed during all wash cycles.
Padded bras come out perfect if you wash them one at a time.
You can wash many standard bras at one time.
Cons
It has a six inch diameter.If you have a vertical load washers with an agitator in the middle you'll need to force the ball to fit it in. Maybe measure your washer to make sure it can fit through the diameter.
It's not meant for the dryer - It's always better to air dry your bras anyway.
To fit a "C" cup into the Bra Ball you have to squish it in. One lady was concerned it would damage the wire but not enough to stop using it.
The clasp will take a little getting used to - Just following the instructions precisely.
It costs more than the Bra Baby. The bra baby is around $20 for two and Bra Ball is $25 for one.
In Review
The Bra Baby's holes seem to be too big which causes the straps to come out. The Bra Ball seems to have much smaller holes. This helps keep the straps and back of the bra inside the ball. Overall, of the ladies that tried both the Bra Baby and Bra Ball, they liked the Bra Ball much better.
They main complaint with the Bra Ball is that it doesn't allow for larger size cups. The bra ball has a larger size now in production. Although, unless they change the circumference of it I don't know how it's going to fit in the average washer. I think I'd feel more confident washing my own bras in the Bra Ball especially if you have very expensive bras.
The Bra Ball is available at www.braballs.com and eBay.
The Bra Baby I'd be a little hesitant to buy based on so many negative reviews I've read. Again you can give it a try buy heading over to Bed, Bath and Beyond. I thought it may be more cost effective to just get one good Bra Ball and you'll know it won't break on you. And now for another ball for your laundry room. The amaaaazing dryer ball review....