Kaboom Never Scrub claims to automatically self clean the dirtiest cleaning job of all.  So any time a product comes along that makes cleaning the dreaded toilet bowel a little easier, many of us would give it a try.  So how does the Kaboom Never Scrub attachment work and will it work for you?
The Kaboom NeverScrub attachment is a continuous toilet bowel cleaning system.   It's a round cylinder that goes into the tank of your toilet. You simply latch it onto the back of the toilet bowel. The tube with blue colored text, attaches to the fill valve.  The tube with red colored text attaches to the overflow pipe. A refill is installed by removing the cap and simply dropping a new one in.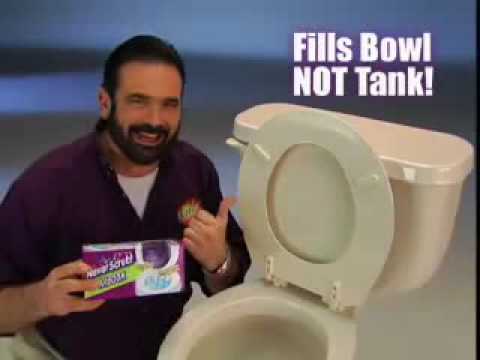 Here's the annoying Billy Mays infomercial just so you can see how it all fits together and actually works. BTW I can't find that free trial offer…. I think it's actually over now.
Kaboom Never Scrub Claims
You'll never have to scrub your toilet bowl again!
Continuously cleans and deodorizes your bowl for up to 3 months.
Cleans your toilet bowel completely, even under the rim.
Prevents stains from attaching.
Safe for septic systems.
Unlike toilet tabs it won't harm tank parts.
Each NeverScrub box includes one cartridge.
Refillable cartridges available in stores.
Pros
Very easy to install.
It really does keep the toilet bowel sparkling white for three months which is about the time the filter runs out.
Rust stains in toilet are removed but not right away. It takes up to a month to get rid of them.
It does prevent rust and hard water stains and mildew from building up.
[tags]Kaboom Never Scrub[/tags] Available at WalMart, Target, Lowes and Bed Bath & Beyond.
Cons
When you first install the product and flush the toilet there's a really strong smell of bleach.  As the product is used over the next few days the smell will go away completely.
It doesn't clean under the rim as it claims.
It doesn't work as well with low flow toilets.
The water flow with the Kaboom bleach will clean the toilet. Although if something is stuck and dries you'll still have to clean the toilet bowl manually.
The initial unit is a bit pricey. It costs $10 for the initial unit and it comes with one refill. Extra refills are $4 a piece.
Kaboom Never Scrub does lives up to its name and the majority of claims on the box. There are many mixed consumer reviews out there but overall it works for most people. Ultimately, if you have a regular toilet that flushes a normal amount of water and is used on a regular basis this product works fine. Anyone else have a different experience? I'm sure most of you have already had enough of Vince the Sham Wow guy...but here he is again in my Sham Wow review.