This Betty Crocker Bake n Fill Cake Pan claims to help you create spectacular dome cakes and other desserts. Ever see this  Betty Crocker ad on TV??  All those mouth watering cakes with tasty looking layers in the middle? I was amazed at all the different cakes and combination of flavors you can create. How about chocolate cake with pudding or fruit??  How about a cake with mint chocolate ice cream in the center, a chocolate cake on the outside and brownie on the bottom.
I can already feel the extra pounds on my thighs... I had my eye on these Betty Crocker Bake n Fill Pans for a while. Finally I found it over at the TV Showcase store at the local mall.   The cake are so cute for kids too. The pan can make cakes like pumpkins, basketballs, baseballs and animal faces. You're pretty much only limited to your imagination.
What's included with the Betty Crocker Bake n' Fill?
Just so that you are aware, there are two different bake sets from Betty Crocker.
There's a basic bake set that comes with three pans… insert, base and dome pans.
The  deluxe bake set has four pans… tall, insert, base and dome.
As you can see in the picture below, this is how the pieces all fit together.
Naturally, the manufacturer wants you to use Betty Crocker cake mixes when you use these [tags]betty-crocker-bake-n-fill[/tags]pans.
Pros
Solid construction.
Comes with a great little instruction book with a nice variety of recipes in it.
The sky's the limit when it comes to creating different cakes.
Cons
You  need to have some patience and it requires some pre-planning.
Major draw back with this pan is that you cannot check the cake with a toothpick or skewer, you just have to trust the time, which is not always accurate.
The set consists of four odd shaped pans which will take up more cupboard space. Although I do see that Betty Crocker has come out with the Betty Crocker All in One Bake Set that takes care of that problem. All the pans fold neatly into each other.
You can find the Bake n Fill Pan online on eBay. You should also be able to find the pans in stores that sell As Seen on TV products.

Here are some Tips!
1.  Don't use cooking spray. Only use shorting to grease the pans and grease them generously.
2.  If you aren't using the enclosed recipes you need to plan ahead for what kind of flavors and icings you will use.
3.  If you want to check on the cakes progress try using the small holes in the dome cover and insert bamboo skewers.
4.  You do need two cake mixes to cook with this pan. You will have excess batter so why not make cupcakes with the rest of the batter.
5.  Very important - Don't fill the pans beyond the maximum fill mark inside each pan because they will overflow.
6.  For easier filling, freeze cakes for about 30 minute before filling with ice cream or fruit. This way your warm cake wont absorb the ice cream.
7.  If you're using pudding as filling inside the dome I suggest two packets in order to fill the dome right up. One packet doesn't seem like enough.
8.  You'll have to be a bit brave if you like to bake from scratch.  The recipes in the booklet are designed to work with Betty Crocker cake mixes.
9.  Be aware that different parts of the cake will take different lengths of time to bake. For instance, it will take longer to bake the tall cake with the insert pan than it will to bake the base cake. That's because the tall cake is bigger.
10.  Before baking a cake you need to consider all of the different flavors you want to use in combination.
Think about the flavor of the center, the outside of the cake, and the decorations and frosting. Do the flavors taste good when there all combined together?
What do you want to use for the filling.  Do you want to use a different flavor cake? There are different fillings you can use. Do you want, candy, whipped cream, pudding, custard, fruit, mousse or ice cream? The sky's the limit, but do try to have a plan first, or you will end up with a mess!
Ideas and how to videos for decorating a round cake. You may need to use more ingredients to fill up the pan/ Approximately 1.5 times the regular cake recipe.
Above, Heather Sue gives a good demonstration of the pan. She mentioned that she picked her's up at Big Lots.
Bake n Fill Recipe Ideas
Many of you ladies are looking for more recipe ideas. The Bake n Fill doesn't seem to have too many recipes in their book and you might be looking for more. The closest recipes I can find are for Bundt Cake pans.  Here the video of Betty Crocker's Bundt Cake pan. You can see how similar it is. The Bake n Fill is different than a regular bunt cake in that the Bake n Fill pan has more of a center filling to it.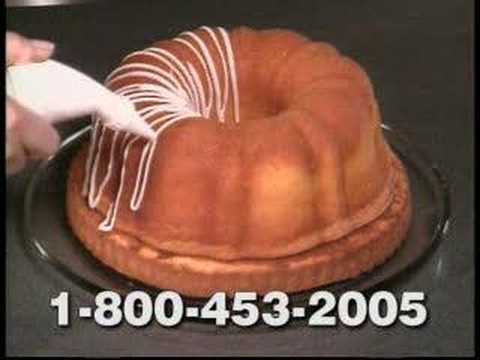 You can also go to allrecipes.com and see the Bundt Cake recipe page. I would stick only to recipes with both the highest and most ratings just to be safe!
The Betty Crocker Bake n' Fill Set in Review - The pans do work. Yes the cakes are tasty and you can make some cool looking cakes. It's twice the fun to use because there's more creativity involved. First with the inside, then decorating the large dome shaped cake afterwards. Because its round you can automatically think of several shapes of faces or objects as opposed to a square cake where you are more limited. Overall most users were happy with his purchase. Kids really seem to love this pan because of the cool creative cakes you can make. Want something tasty and unique for breakfast? Check out my latest pancake puff review!