I'm sure many of have you seen the latest ridiculous Comfort Wipe infomercial. Thank God they spared us
viewers up here in Canada. So what is this latest gizmo you ask? It's a little arm used to apply toilet paper to help you wipe your ass.  Ewww what a horrible mental image! Yessss this is seriously a real product! Just in case, others have phoned the makers of Comfort Wipe, Telebrands, just to find out. Just like the Snuggie they figured that having a nutty infomercial may increase sales.  This raises an interesting point.  Just because there's a viral market for an online video, it doesn't mean there's a market for the infomercial product. Well we can all have a few laughs at this viral infomercial gone horribly wrong.
Apparently Comfort Wipe is only in test mode, and according to a spokeswoman, Telebrands  won't be moving forward with it. Hmmm I wonder why. The company also mentions
(I know you're all dying to run out and buy one) If you really are interested in getting one there's still units available for purchase via the website. But once they're gone, they're gone!
Original Comfort Wipe Infomercial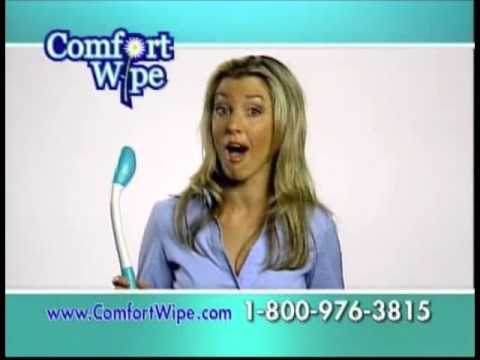 As you can see from the infomercial the Comfort Wipe is an elongated 18" piece of plastic. Wow I had no idea toilet paper was archaic and so out of style.  Instructions are very clear and precise:  Simply scrunch the toilet paper and apply to stick. Now wipe your bum. When done turn Comfort Wipe over to drop toilet paper into toilet. It's that easy!
Spoof on Comfort Wipe – The Comfortable Stick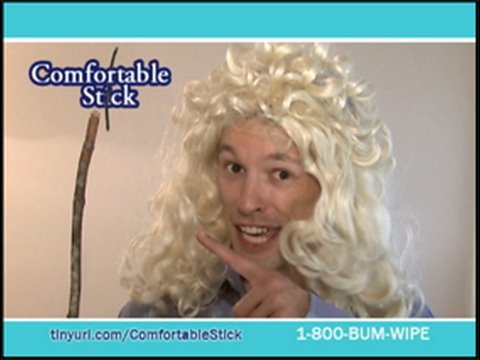 Here's a perfect impersonation of the blonde chick in the infomercial.  He's got his large twig aka Comfortable Stick and the bonus GetaStick (small twig) which he tapes to the side of his bathtub. It's a steal of a deal cause it's a $500 value for only 3 easy payments of $9.99 PLUS 4 shipping and handling payments of $9.99. Yeah that's how much they normally charge us for those infomercial products! For more funny commercials and weird infomercial products have a look here!