Here's another look at a crazy 80s infomercial.  Ever looked backed at old infomercials and wondered "What the hell were we thinking?" Here's a perfect example...A metallic, one-size-fits-all diet suit promoted by women with mullets.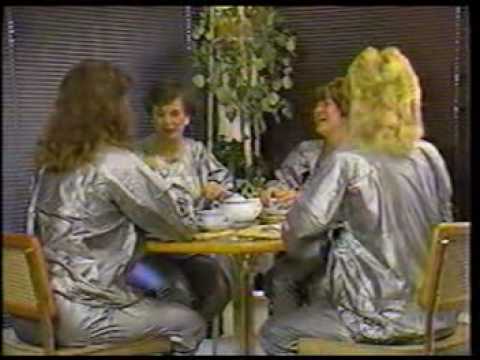 Slim Suit Infomercial Highlights
Are you ready to lose weight by walking, talking with your gal pals, sitting, sleeping or watching your favorite show? It's weight loss on the go, to suit YOUR busy lifestyle.
It's magic...No pills! No exercise! "  It's sooo simple. You see, the more active you are, the more Slim Suit works for you!" Just put on Slim Suit and Sweat! Sweat! Sweat! Until you pass out from dehydration.
Enjoy the convenience of losing weight while watching TV. Why not wear it under your Snuggie and keep warm while losing weight.
"It works as active or relaxed as you want to be." Wow they really go into specifics there.
"Did you know that this aluminum foil suit is sweeping the country?"
"For everyday wear and every night...you can wake up weighing less." Who in their right mind would sweat all day in a stinky plastic suit and wear it to bed.
They forgot one really important piece of information….Ummmm how does it actually work? Guess they figured that wasn't important.
I love the way they present those hideous metallic, bag like suits, outdoors on those ugly hangers. They are actually trying to promote the fact that you can look good in a Slim Suit. One size fits all...Yes everyone can look good cause it's super stylish.
Remember, supplies are limited, and there is INCREDIBLE demand... The [tags]funny commercial[/tags] insists you must act now. If you can't get a slim suit, just dress yourself in a garbage bag.  It will probably be more effective and less crazy looking. Darn it, it's not available in stores! I wonder why....