The Snuggie/Slanket issue is still alive and kicking!  Looks like there's a lot of confusion around the differences between Snuggies and Slankets. They look almost identical and alot of Slanket pictures on the net are named Snuggies by mistake. Here's a [tags]snuggie vs slanket[/tags]comparison between the two.
**Slanket General Description
Slanket came first and Snuggie came along with a cheaper imitation.
Costs almost twice as much as the Snuggie.
The Slanket has more pile to the fabric. It's 100% polyester and is more luxurious fabric than the Snuggie.
Looks like it's more able to wrap around your back than the Snuggie.
Very difficult to get up and walk around because of the length and bagginess of it.
It's more like a one sided blanket with sleeves. Snuggies is more of a robe.
There's more material so you can wrap more of it around your back as opposed to the Snuggie.
Here's a Slanket video! You can get an idea of the size of a regular Slanket and the child sized Slanket in the video below.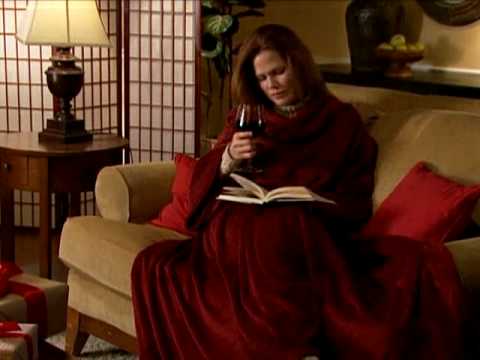 Slanket Sizes
13 inch wide sleeve
Regular Slanket Sizes 97x58, 95x60, 66x62, 80x60
Slanket on the Go  66x60 inches
Travel Slanket  44x63
Slanket for Kids 66L x 44W inches
Slankets for Kids is actually big enough to fit adults as well. Please see the video to see the actual size.
Where Can You Pick Up a Slanket?
www.qvc.com
www.theslanket.com
Ebay - Various sized Slankets
Slanket Pattern Alternative
I was searching on eBay and discovered that McCalls has come out with their own version of the Slanket/Snuggie Pattern but they call it the "Comfy Blanket". These should be new and unused patterns but double check with the seller just in case.
The pattern sizes are as follows...
Short length - 56.5 inches wide x 60 inches long
Medium length - 56.5 inches wide x 72 inches long
Long length - 56.5 inches wide x 90 inches long
Sleeves are either 25 or 29 inches long
**Snuggie General Description
Material is thin like an airplane blanket. It is a fleece fabric with less pile than the Slanket.
Can't sit on cold surfaces because your back and bum are fully exposed.
A little long for the average sized person.
Doesn't stay on around your shoulder very well.
Biggest issue is that there's no back to it and doesn't completely close or tie shut.
Creates lots of static cling while wearing it.
Piles badly after several washes.
Sizes
Adult Snuggie  71x54 inches
Kids Snuggie is 42x54 inches
Other Shipping Info from Snuggie Site
I looked at the freesnuggie.com site and it looks like they have a order tracking link now. So if you can't get through on the phone with a real person you can still check the status of your order.
In Oct 2008, there has been a report of Snuggies Co shipping a product and not including any information in the box. On top of that the product was ordered in Oct and took two months for them to get the Snuggies. Then the colors were wrong. Anyway when they tried to return the product the zip code was wrong. Then they got on the phone to call the toll free number and they could not get through to a real person.  Great first impression of a company!
Here's a Recent Consumer Reports Review
Below they put the Snuggie through some challenging tasks to see if it really lives up to the hype.

Still Want to Pick Up a Snuggie?
www.getsnuggie.com, www.freesnuggie.com
Walgreens, Bed Bath & Beyond, Target
eBay - Various sizes, colors and types of Snuggies and child Snuglets.
Don't Go Snuggieless This Christmas! Here is a Solution...
GetSnuggie.com has been having some problems with their latest Christmas deliveries. And some people are looking for alternate solutions.  So whats a snuggie/slanket lover to do?Ok I know one thing from taking some sewing classes…. If you can sew, you could literally whip one of these babies up in a couple hours tops. Free Adult and Child Snuggie Pattern If you're interested in sewing up your own Snuggie, Sara Elliott was so nice to provide these patterns! Have a look right here. If you prefer to have a large pattern,
Other Snuggie/Slanket Alternatives - Introducing the Nuddle Blanket
Or if you want to spend a fortune on a very classy (only because she's posing with a glass of wine) looking form of the Snuggie/Slanket... I will now introduce the Nuddle Blanket! Ooh brother!  Give me a break. They are charging $110 for it! It's main features are the openings for arms, cozy hand pocket and enclosed foot pocket. Why not just get a piece of fleecy fabric from the fabric store and cute holes in the arms?? Same thing!!
Introducing the Grim Reaper Snuggie
It's a rather creepy, avant-garde design made by an Icelandic designer Sruli Recht. It's called the Blankoat. The material is said made from the wool of inbred Icelandic sheep. Apparently no other wool in the world is warmer, lighter and more water-resistant. They mention that it is pretty warm. but somewhat itchy and the material is rough. By the way this design will set you back 250 euros! That's around $320 US dollars!
The Snuggie/Slanket debate is hopefully solved. I think I'll skip the whole Snuggie purchase this year and just stick to my comfy sweat suit and some warm fuzzy slippers. Then I don't have to rack my brain trying to figure out which one is a better buy!
If anyone could shed some light on this debate I'd be more than happy to hear from you! You can leave a comment by clicking the link to the right. I would really appreciate it. Thank you!!