Bug Bam is for those of us who hate putting chemicals on our skin. That Deet Repellant is so sticky and smelly. I was very intrigued by the claims of this natural product. So how does it work you ask? These all natural wristbands mask our own human scent and fool insects into thinking that we're actually a plant! They're made from a combination of lemongrass oil, geranium and citronella and good for up to 100 hours of use. They are scientifically tested but I still wondered if they were "real" or bogus tests. This inventor seems pretty honest though....
I love the message they have inscribed on the wrist bands. "Bug Bam! Because Mosquitoes Suck" How cute is that?  Just beware that you should avoid using any other fragrances such as hair spray or cologne while using the Bug Bam. Below is the Bug Bam's Australian inventor.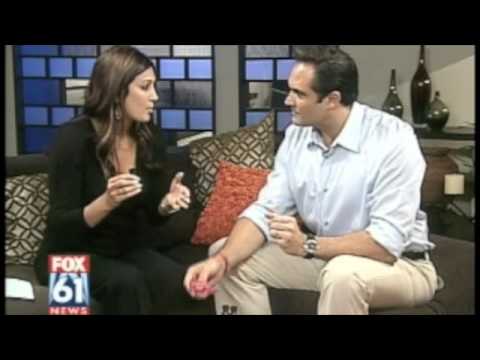 Bug Bam comes in both adults and kids sizes and you receive two per order.  They also offer Bug Bam Pet Tags for your pet's collar and a Repelling Grid which hangs from anything — swing sets, patio furniture, tents — creating a bug-free zone up to 300 ft. away!  Each product retails for $7.95.
Does Bug Bam Really Work?
Overall it does work but won't completely keep every single mosquito away.  It also depends on the type of mosquito and where you live. Some mosquitoes are obviously more hardier or desperate than others! While some claim that they don't have one mosquito bite wearing it, others who live in wooded areas report that they did get bit and were disappointed with the results. The [tags]bug bam[/tags]inventor suggests that in these cases you can use one Bug Bam on the wrist and another on your ankle.
There's a very strong smell of citronella which you may or may not enjoy while you're wearing it.  You can easily stink up your whole house with the bracelets unless you store the Bug Bam in its re-sealable package.
The instructions suggest that you can put the bracelet on smaller children's ankles to make them fit. However from what I learned from other parents is that their young kids love to try and grab it and chew on it!
It's cheaper than the standard mosquito repellent sprays.
Comfortable to wear and also water and sweat proof.
Bug Bam overall seems to do the trick for most people. For the price spent is a nice alternative to toxic bug sprays on the market. I guess you can pick them up at Walmart and Walgreens. If you'd like to check out more reviews on the Rocket Fishing Rod please have a look here.