The Emery Cat Board is creating a lot of buzz around the internet...mostly from internet marketers trying to make a buck from promoting this product. I'm sure you've seen the infomercials of cats having a blast scratching their nails on the honeycomb board and playing with the attached dangling toy.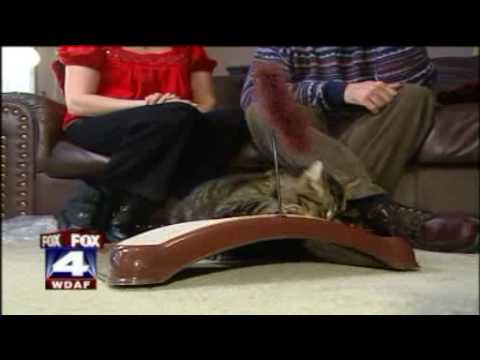 So you can see in the video review that the Emery Cat is easy to assemble and these cats seem to like to play with it when there's catnip on it. It may depend on your cat if they will actually take to it or not.
The problem is that over time the scratch pad is like a honeycomb cardboard with some sort of coating on it. The coating actually comes off over time and your cat will eat it if you put the catnip on the board.
The tray is cheap plastic and tips over when cat's play with it.
Some cat owners are having a hard time getting their cats to use it.
Consumers are saying that the Emery Cat website is very confusing. It doesn't give you a chance to review your order before submitting it.
Consumers are enraged that they are being overcharged with shipping and handling.
Customer service at the Emery Cat site is terrible if you want to go back and fix your order.
Being a cat lover myself, I just feel like crying when I saw  this pet owners comment....
we bought this product to help our cats maintain their own nails as they scratch. they loved it but then our older cat got his nails STUCK in the hard crevices and holes needless to say they cats only option was to draw his claws back and he paid for it. he bleed all over and now half of all his nails are missing and there is a huge gash on the soft spots of his feet. i do not think the emery cat is a great idea for anyone. please rethink your decision before purchasing one and let your friends know if they are thinking its a wonderful gift for their pets. IT CAN HAPPEN TO YOUR CAT
WARNING TO ALL CONSUMERS
I want you to be aware of what is really going on around the internet that you may not be aware of. This really makes me sick to my stomach. This may be a shocker for some of you but Emery Board offers people a payment if you blog about them but only if you say something positive about them. I PERSONALLY DO NOT GET PAID TO WRITE THIS BLOG POST because I can't stand the thought of sending someone to an offer for a  product that does not work as advertised. Plus the website doesn't take orders or bill properly. You can see when you go to the Emery Cat site and look at the bottom of the page there is a link get paid to blog about them.
Do you see how this person has written a nice little article about the Emery board and how consumers are reacting and commenting on the article? Please see this link and see the largest and most prominent article site on the internet Ezine Articles.
Consumer Complaints - Emery Cat Board
Here are many real consumer problems and issues ordering from the site.
Consumer Affairs Emery Cat
Here are REAL CAT OWNERS NOT INTERNET MARKETERS talking about the Emery Cat Board in this forum.
Real consumers forum
The Emery Cat is written about all over the internet because internet marketers are making money by referring you to the products. They either make a commission off of every sale they make or in this case get paid to blog and say something positive about their product. Of course this is not the only As Seen on TV product that does this. I have been online for many years and have taken many courses and I see what others are doing. Dishonest marketers have infiltrated the internet....They're on Facebook, Twitter, write articles, they post on forums, they set up squidoo lenses, Hub Pages set up countless sites and blogs etc etc. I'm just trying to be honest with you. I have absolutely NO PROBLEM with others who do an unbiased honest review and then refering someone to the retailers site. In this case I can see that all they are trying to do is make a buck on a [tags]As Seen on TV pet[/tags] product that is not working as advertised. I was going to say other things but I'll try to control my anger right now. RRRRRRR I will just sit here and fume for a while.... Please, pleaaassse leave your comments below if you've had an experience with this Emery Cat Board.