I've always been fascinated watching the Roomba maneuver in and around hard to reach places. You might be wondering what other uses you can get out of this round robotic vacuum cleaner. Did you know that it's just as entertaining to watch your pet's reaction to it as it is to use it? The YouTube community has definitely picked up on this. Ever heard of Roomba surfing?
Here are a three very amusing videos demonstrating how much cats and babies have a blast riding this robotic invention around the house.
The vacuum is a brand new experience for these cats. Their owner has to break the kitties in slowly. Their not sure what to think the first time they meet a talking Roomba.  The expressions on their faces are priceless!
Once they get acquainted and feel comfortable with Roomba, kitty will turn it on and take it for a spin. Max-Arthur's owner tells us that he always helps cleaning up after his own pet hair. Easy to use Roomba Vacuums, even kitties can do it! Sure hope his tail doesn't get caught under there.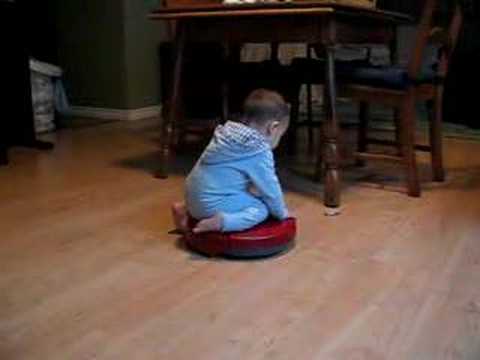 Kids just assume Roomba is a toy and can't resist! Seems to hold up well under the weight!
The Roomba was never really a very effective vacuum cleaner. It's for light cleaning in between vacuuming and  does take a long time to complete a full room. As long as you can get some entertainment value out of it it may be worth the $350! Here's another unusual robotic invention from the past. Aibo the robotic dog was definitely great entertainment value until Sony pulled the plug.